At this very moment, Noah Shaw, everyone's favourite fitty from
The Unbecoming of Mara Dyer
and
The Evolution of Mara Dyer
by Michelle Hodkin
,
is going up against Augustus Waters in the YA Crush Tourney. He could be losing at this very moment (I don't know, however, because this post is pre-written). We can't let that happen. It is time, 'rinos, for me to call in your loyalty. It is time for us to cast our votes at
the YA Sisterhood blog.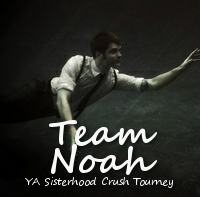 Who can honestly resist a guy who swims with his clothes on?
No? Not impressed? Fine. I shall resort to bribery. Noah's advocate, Sara the Page Sage, is holding a giveaway at 5pm EST, aka 10 o'clock in England. All you have to do is vote for Noah (duh) and answer a trivia question correctly using the hashtag #VoteNoahShaw, for your chance to win a Noah Shaw bookmark.
Vote, minions, vote! Charlie out!